I am a fan of European cars, so to drive a lap on the Nürburgring has been on my bucket list for a while.  On a recent vacation I was able to tick this one off on the list.  For those that don't know, the Nürburgring is one of the most famous, complex racetracks in the world.  It is 13 miles long, and has 73 corners, many off camber.  The track elevation changes often, and a dense forest runs on both sides of the track. All of these complexities earned it the nickname of "Green Hell" in 1968 after British racing legend Jackie Stewart won the German Grand Prix there and coined the term. Today the track is used by automotive manufacturers from around the world to test their cars and fine tune suspension, as well as set lap times for bragging rights.  Most of the time the track is open (for a fee) to the general public to to lap their road legal vehicles.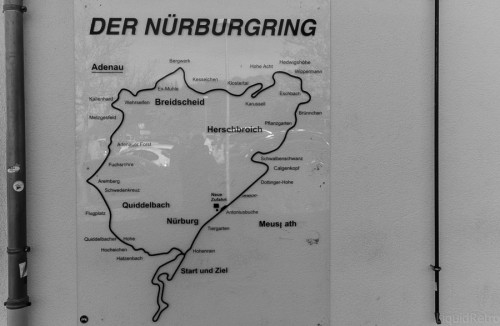 I did lots of research online about what I needed to know before going to the track, how best to approach it, and what car to rent.  I learned many european rental companies will ban the driver for life if the standard rental cars are taken on the track (GPS verified).  Too many burned up brakes and worn out tires.  Many forums suggested renting from RentRaceCar.com, and they happened to have a car that fit my needs.  I choose a VW Sorocco Cup+.  It was advertised as beginner friendly, it had a DSG gearbox, and had 2 seats so I could take a passenger.  The car had a stock 220hp motor, Bilstein suspension, semi-slick tires, racing brakes, and a half rollcage.  It was perfect.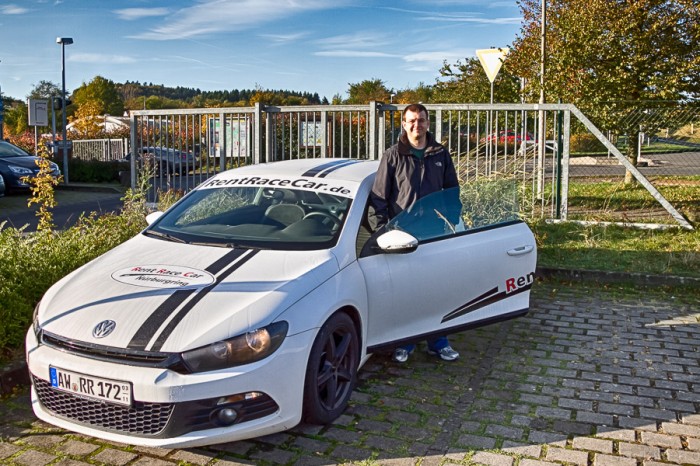 Before coming to the track, the internet suggested I practiced on a simulator.  I was very lucky to find a friend who let me borrow his PS3 for a few weeks to practice the track.  (Thanks Frank!) It made a huge difference.  While I didn't have the track memorized, I at least recognized all of it and knew what to expect in the tricky parts.  Gran Turismo 5 did a good job of representing the track.  There were differences though.  In real life the track was pretty narrow and the elevation changes were much greater than I expected.
Early on a Saturday morning we set off for the track, driving from Cologne, Germany. The weather ended up being perfect: sunny, 55 degrees, and low winds.  When we got to the track it had just opened for the day, and was still a bit damp with dew and fall leaves.  I filled out the minimal paperwork, was briefed on operating the car, and rules of the track.  After that I was handed the keys, and off I went for my first lap.
I rented the car for 2 hours, and did a total of 4 laps.  My first lap was by myself, no one in my family wanted to be a passenger and I was ok with that.  Since this was my first track driving experience, on one of the most complex tracks in the world, and the track being damp in some corners I took things pretty cautiously.  On the track you keep to the right, and signal with your right side blinker to let faster traffic pass on the left.  Keeping a constant eye on your mirrors became pretty important.  The first lap went without a problem,  I was surprised when my mom said she wanted to be the first passenger.  I never expected it, but I said yes as long as she didn't say anything.  Her lap was pretty exciting as an Aston Martin passed us in a corner and nearly ran into us. Eventually the entire family went on a lap as a passenger.  Traffic did increase a lot as the morning went on and the track dried out.  I was glad we got there early.  On the track, you encounter just about every type of car imaginable.  On the same lap I passed a Porsche 911 GT3 briefly, and got passed by a Chrysler Town and Country minivan.  There were lots of 911s, and M3s that were pushing hard.  In addition to sports cars, there were 7 Series, SUV's and even compact cars packed full of people making laps.  The famous karussell lives up to it's reputation, definitely fun.
Below is one of my laps from the ring.  Remember this was my first time on a track and the track was damp.  To me it looks pretty slow to what I remember.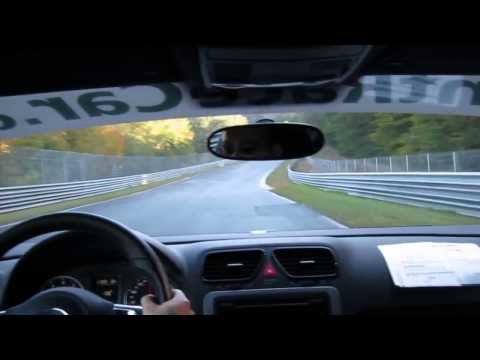 The paddock was truly a car lovers delight.  We pulled up in our rented Hyundai i40 estate.  Parking next to us almost immediately was a modified 997 Porsche GT3.  After my first lap on the other side parked next to the Hyundai was a new Aston Martin with a lady in the passenger seat, dressed the part to be in an Aston.  There was also an Aston Martin club from France that was at the track for the day.  The Porsche 911s and BMW M3s in the lot were too numerous to count: new, old, stock and modified were all represented.  There were also a handful of Ferrari F430s, a 612, and a couple of Lamborghinis.  The BMW Ring Taxi M5s were also making lots of laps too.  On the more rare side of things, there was a Mercedes Mclaren SLR with duct tape, and a newer Radical getting lots of attention.  I could have spent a long time taking photos of all the comings and going.  We did meet family from Florida who was in the military at the track doing laps.  One of their children was lucky enough to get a flying fast lap from someone in the lot who overheard.  It sounded amazing.
I am so grateful for having the opportunity to be in the area and visit the track.  It really was the highlight of my trip.  I would recommend it to anyone who had a love for cars and wants to drive on a track.  If you have any questions leave a comment below and I will do my best to answer them.