Tonight I made Thit Bo Xao Dau a Vietnamese recipe I found on my iPod Touch using the AllRecipies application.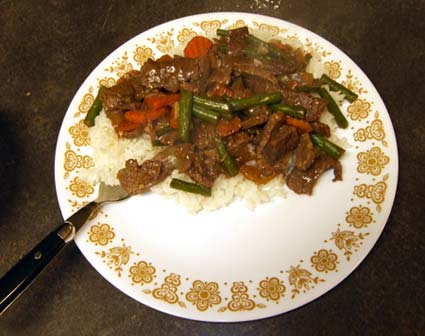 The recipe was very good. I added a few carrots to it and followed the directions of the first commenter who suggested a slightly different cooking method and to use fish sauce.
Buying the fish sauce was a bit of an adventure. I went to a local oriental market. When I went in the place was just packed full of merchandise. You could barely walk around in the place, because of this I just asked where the fish sauce was and then went there. It was an adventure finding it even in the correct isle. Every type of dark brown sauce ever was there, 3/4 of it were various soy sauces and then there was many other types too. On the opposite side of the isle there was tea. Being a tea fan and being low on tea currently I tried to find something I would like. I wanted a nice black tea that I could make good iced tea out of or drink hot. After finding, White, Green, Red, and Various health teas (Very interesting everything from help with the Male bits, Love making tea, to sore throat, and general health) I found some of what I think is black tea. Tung Ting Oolong Tea I am looking forward to trying it out tomorrow.